Bogner
Fashion store in Hamburg
At Hoffmann Interior, customers get all the services they need from a single source: this was also a decisive criterion for commissioning Hoffmann Interior as the general contractor for project partner and lighting technology specialists Zumtobel. Working seamlessly together, the refurbishment of the Bogner store in the Rathausmarkt central square in Hamburg was realised over a period of one month between 26 July and 30 August 2019. The team at Hoffmann Interior took over the coordination of the trades for the wall construction and electrical work that had to be carried out. The company also took on the production and assembly of smaller pedestals and slatted constructions for the ceiling.
The staggered slatted frames elegantly incorporate the Zumtobel lighting and connect the rustic wooden look with the bright wall and ceiling design on the lower floor. The modern overall appearance offers a perfect stage for the presentation of the outdoor and sports clothing on display.
Thanks to the excellent timing, the measures on the ground floor were completed as planned so that Bogner could already start selling here in mid-August. A continuous concrete wall connecting both floors became the biggest job during the project: extensive plastering work created hurdles here in terms of time and organisation.
Site manager Denis Wilde was always a competent contact person, making quick decisions on site and offering reliable solutions. In order to minimise the burden caused by the refurbishment work, the company specifically addressed the wishes and needs of the store's employees. Even in the stressful phases, everyone involved impressed with their utmost professionalism and friendly manner.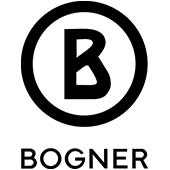 Customer
Willy Bogner GmbH & Co. KGaA, Munich
Industry
Fashion
Services

General contracting
Production and assembling of lamella cladding

Manufactured elements

Lamella cladding

Implementation time
1,5 months