LVM Versicherung
Service offices: all over Germany
Customers of LVM Versicherung need to feel well looked after in a true sense – which is why the interior design of their insurance agencies is particularly important. LVM Versicherung, which is based in Münster, currently has a workforce of over 3,000 and about 2,200 agents.
It is among Germany's leading insurance groups. Between April 2010 and today Hoffmann Ladenbau has fitted out almost 1,000 service offices for LVM Versicherung throughout Germany. The furnishings of an agency can comprise a variety of elements, such as desks, chairs, reception desks, sofas and cabinets. The design is based on specifications by LVM.
To ensure a high recognition value, LVM offices always have a green wall and brown flooring."We make standard furniture for the agencies in advance and then store them," says Peter Noll, project manager at Hoffmann Ladenbau. "Occasionally, however, we also produce special furniture and glass partitions."
LVM and Hoffmann Ladenbau have been a harmonious team for quite a while now. The shopfitting experts from Rosendahl-Holtwick survey the premises of each agency and then send the details to LVM. Two architectural firms – 3F Design in Cologne and q:arc in Berlin – then handle the planning and send the plans to Hoffmann Ladenbau, so that its shopfitting experts can make a suitable proposal to their client.
One major advantage for agencies is that they they can select the relevant products and services from an order list. Peter Noll: "Each LVM agency decides for itself whether to book us as a general contractor or whether to place part of the order with local traders."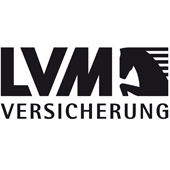 Industry
Insurances
Project type
Service offices
Customer
LVM Versicherung, Münster
Design
3F Design, Cologne
q:arc, Berlin
Services Performed

Technical development
Production
General contracting services
Shop and store logistics
Assembly

Manufactured elements

Agent working space
Wall systems
Counter
Seating areas
Display windows

Cooperation since
2010
Realised projects until date
approx. 1,000 service offices