Rhein-Ruhr Centre shopping mall
Showroom in the Rhein-Ruhr Centre, Mülheim an der Ruhr
The Rhein-Ruhr Centre will be completely modernised from 2020 to 2023 as part of the extensive refurbishment measures. New tenants can get an idea of the future interior design in the specially created showroom in the Rhein-Ruhr Centre, even before the planned refurbishment work begins. The client Harko relied on the seamless general contracting service provided by the team of experts at Hoffmann Interior.
The showroom in the Rhein-Ruhr Centre is located in a former regular sales unit and was created according to the design concept devised by Maas & Partner (Münster). It is intended to give an authentic impression of the future ambience in the public area of the Rhein-Ruhr Centre and inspire interested parties with its prospective look. The actual rental office takes up by far the largest part of the refurbished space. The 87 m² area houses a market stall with variable fronts, a lounge wall with a seating alcove and wall screen as well as various seating areas, tables and decorative furniture. Hoffmann Interior took on the technical development as well as the production and subsequent assembly on site.
The interior design emphasises the historical proximity to the coal mining age that still characterises the Ruhr region to this day. Square steel was therefore used as a solid design element. In combination with vintage-look components made of oak and sooty shades of colour, this creates an industrial flair with a modern touch. The grid work and expanded metal are used as filling material in this arrangement. Even the shape of the integrated pendant luminaires is clearly reminiscent of pit cages and represent another elegantly deployed reference to mining.
With the presentation possibilities of the wall screen, the slatted style of the surrounding lounge wall also brings the interior design into focus. It skilfully combines design features from mining with the technical options of modern interior design.
The customer acquired the interior design, all the furniture for the presentation room and the adjoining sanitary facilities, back office and lounge areas from a single source at Hoffmann Interior. Reliable communication with numerous contacts was therefore the prerequisite for a timely handover. The experienced planning office Drees und Sommer provided support with the challenging coordination of all trades on site.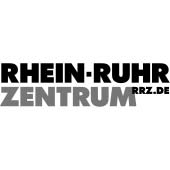 Customer
EKZ Rhein-Ruhr Zentrum, Mülheim an der Ruhr
Industry
Services / Shopping centre
Design
Maas & Partner Architekten mbB, Münster
Services

General contracting
Production
Logistics
Assembly

Manufactured elements

Wall and mid-space furniture
Conference table
Office furniture
Seating arrangements
Kitchen furniture

Implementation time
1,5 months