Defshop
Store in Berlin
DefShop is one of the largest online retailers for urban and streetwear as well as for hip hop clothing. The company was able to gain a foothold in store-based retailing back in 2016. As DefShop is continuously evolving, the aim was for the street store to also get a complete makeover in 2018. On the search for a suitable partner for the large project, DefShop found Hoffmann Interior, an experienced and flexible interior design expert who is also familiar with the "Shoes & Sports" sector.
The aim from the outset was to seamlessly transfer the young and urban image of the website into the store. For this reason, Hoffmann Interior was already involved in the concept phase as an innovative trendsetter. With their extensive know-how in the area of general contracting services, the experts at Hoffmann Interior were also a great help to the customers with the planning of the refurbishment.
"Streetwear is everywhere" – this is the motto of the street store in Mercedes Platz in Berlin with its rough materials and colours: black lighting grids, stained maritime pine, rust tones and reclaimed wood panels give it an authentic look. Appropriately, the DefShop employees decorated the rear wall of the checkout counter and a conference room with graffiti.
The large sneaker wall is a highlight of the interior design. A slotted rail system allows for the quick and flexible use or removal of the display shelving. Hoffmann Interior also produced large sliding doors with an industrial look. Digital components, such as order terminals with touch screens, are seamlessly incorporated into the concept and merge together the DefShop store and website. A second store was developed in the Mercedes-Benz Arena at the same time. Sports fans in particular get their money's worth here. Hoffmann Interior also took over all the services for this project – from the planning and production to the professional installation.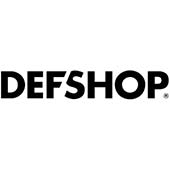 Sector
Fashion - streetwear
Project type
Stores
Customer
Defshop GmbH
13439 Berlin
Design
Stefan Schnell Innenarchitektur
Services provided

General contracting services
Production
Installation

Elements produced

Mid-space furniture
Wall furniture
Shelves
Room dividers
Checkout counters
Lounge furniture

Cooperation since
2018
Projects realised until now

Stores in Berlin and Cologne