EMP merchandise and fashion stores
in Dortmund and Lingen
EMP Merchandising Handelsgesellschaft mbH is the number 1 e-commerce merchandiser in its sector in German-speaking countries and beyond. EMP started out as a pure catalogue business and has sold sound carriers and band merchandise from the rock and metal sectors since 1986. Today, in addition to the expanded, multi-genre music portfolio, the closely integrated catalogue, online and in-store businesses now also offer merchandising products from numerous film, series and gaming franchises as well as clothing and products from certain brands. The high-street stores are an important addition to the original distribution channels and are designed to enable customers to physically browse through the wide array of items in the comprehensive product range. This made it particularly important to create an atmospheric environment that lives up to both EMP's current image and its roots in the rock and metal scene.
Everything from a single source: when it came to planning and creating the new stores in Dortmund and Lingen, Hoffmann Interior proved to be a partner brimming with ideas. Key factors included the shopfitting and interior design expert's proven finesse as a general contractor and its ability to guarantee smooth and punctual completion even under time pressure. The renovation of the Dortmund shop started on schedule on 10/08/2020. The finished EMP store with a sales area of 155 m² had to be ready within a month. The major challenges included the tight schedule and the task of developing particularly high-capacity display shelves. Hoffmann Interior commissioned the services of Stefan Schnell, who designed an 'angular' concept that consciously adopted features from the field of stage building. These include flight cases with shelves produced by Hoffmann Interior as well as beams that are used to display print motifs and lighting fixtures. Matt black, powdered lighting grids, bars and robust wall elements that double up as display stands round off the overall picture to create a characteristic look. The result is that a festival atmosphere awaits event-loving customers from the moment they enter the store.
The Dortmund store was completed on 11/09/2020 and opened its doors just a few days later. Hoffmann Interior also created another store in Lingen between 07/09 and 23/10/2020, with the two projects briefly running in parallel. Thanks to the well-established team at Hoffmann Interior, all GC services, including the furniture building, were completed within the planned time frame and to the customer's full satisfaction.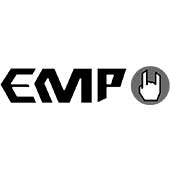 Sector
E-Commerce Merchandiser
Project type
Stores
Customer
EMP Merchandising Handeslgesellschaft mbH
Design

Stefan Schnell Innenarchitektur

Services provided

GC Services
Production
Assembly

Elements produced

Wall elements
Trusses
Bars
Flightcases

Cooperation since
2020
Project photography
Katja Borns, Marc Feike