Globetrotter Outdoor
Stores und Shops all over Germany, Globetrotter Lodge Ascheffel
For the photo gallery of the Globetrotter Flagship Store Stuttgart Hoffmann Ladenbau painted well over 2,000 shelf compartments in RAL 9001 White and covered the insides with HPL laminate to achieve a mirror look. Then the A3 and A4-sized photos were digitally printed onto white panels and then inserted into the compartments as back walls.
"It was a major challenge to reconcile the static specifications with the desired materials," explains Christoph Werschmöller, Project Director at Hoffmann Ladenbau. He adds "site measuring alone was very time-consuming since the stairwell extends over four floors."
The Globetrotter Active Store is part of the new Harz Welcome Centre where guests at the Torfhaus Harzresort can obtain information about tourist facilities in the region.
Reflecting the natural setting where the store is located, the designers focused on a natural appearance in the use of materials. This led to an exciting mixture of warm wooden surfaces, which are repeated on the walls and ceilings, as well as corroded steel elements that were used in the design of the product racks and changing facilities. Corroded steel was also used for the brochure racks and wall units in the lounge of the Harz Welcome Centre. To achieve this rustic steel effect, Hoffmann Ladenbau developed an innovative method that allowed both the deliberate arrangement of corrosion areas and a substantial reduction of the production time.
Hoffmann Ladenbau supplied numerous furnishings for the publicly accessible areas of the Globetrotter Lodge. One highlight is the design of the breakfast room where guests can look forward to a buffet bar in a birch design, trees as unique room dividers, artistic ceiling diffusers with veneered plywood as decorative elements and a 3-D wall with trees behind it.
Globetrotter was especially keen on the selection of materials, giving preference to natural materials, visible metal and natural colours such as dark green for a general impression of closeness to nature. Any guests who love the great outdoors will enjoy the Globetrotter Lodge with its exquisitely natural birch bark panels, solid pine trees as room dividers, roughly brushed worktops in knotty oak veneer and transparent, powder-coated metal elements. One particular challenge for Hoffmann Ladenbau was the short period of time for implementation, as we only had just under nine weeks from the design and planning stage to the successful completion of the project.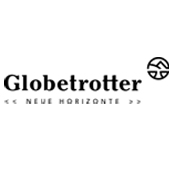 Industry
Outdoor specialists
Project type
Flagship Stores, Stores, Lodge
Customer

Globetrotter Ausrüstung
Denart & Lechhart GmbH

Design
Prof. Moths Architekten, Hamburg
Services performed

Technical development
Production
Assembly
Shop and store logistics

Manufactured elements

Globetrotter Flagship Store Stuttgart:
- More than 2,000 shelves in the stairway
- Shop window system
Globetrotter Active Store Torfhaus, Brocken:
- Wall systems
- Product and Brochure racks
- Platforms in the shop window area
- Dressing rooms
Globetrotter Lodge Ascheffel
- Reception counter
- Bar counter with bottle holders
- Niche furniture
- Coffee furniture, tables and chairs
- Breakfast bar
- Trees as a room divider
- Ceiling lamellas
- 3D wall

Cooperation since
2013
Realised projects until date

Globetrotter Flagship Store, Stuttgart
Globetrotter Lodge, Ascheffel
Globetrotter Active Store, Torfhaus, Brocken
Globetrotter City Concept Stores in Dusseldorf
and Hamburg