Görtz
Stores throughout Germany / store in Hamburg
The architecture department at the company Görtz has been relying on the seamless all-round service of Hoffmann Interior since 2006. It worked together with the shoe retailer to create flagship stores, exclusive areas and branch stores. The location in the Wandelhalle shopping mall at Hamburg central station is a perfect example of the interplay of state-of-the-art production technology and many years of shopfitting experience. The interior design specialists at Hoffmann Interior realised the extensive modernisation in March 2016.
The aim of the transformation was to create an open and clear ambience benefiting from a clear design language. The far-reaching changes are already clearly evident from the outside: black presentation cubes in the shop windows present shoes and accessories in the best light. At the same time, they also paint a picture of the themed worlds inside the shops and give you an appetite for more. The cubes were produced by Hoffmann Interior in its in-house metalworking facility. Stylish wall panels were mounted on the walls of the development that were decorated with an engraved Görtz logo.
The display panels also required a high degree of flexibility. A rail system was therefore installed into which high-quality aluminium bases can be inserted. In this way, the walls can be effortlessly converted from cardboard fittings into self-selection elements.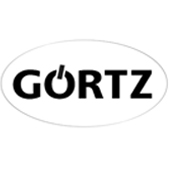 Sector
Footwear fashion
Project type
Stores & shops
Customer
Görtz Retail GmbH
20095 Hamburg
Design
Interior design department at Görtz
Services provided

Production
Installation

Elements produced

Wall panelling
Mid-space furniture
Product displays
Pedestals

Cooperation since
2005
Projects realised until now

Various stores nationwide