Henschel
Fashion store in Heidelberg
The fashion house in Heidelberg celebrated its reopening under the name of Henschel on 4 October 2018. The interior architects from "Blocher Partners" in Stuttgart devised complementary partial concepts for each floor and the individual thematic areas. Hoffmann Interior used these to realise an overall shopfitting concept, taking account of the corporate identity. The flagship store in Darmstadt served as a model, just like every other interior design in the Henschel Group.
The organisational skills of the professional team at Hoffmann Interior in particular were required as the first phase of the refurbishments was carried out while the store was still open for business. At the beginning, the 2nd floor was redesigned with the department for men's fashion. The furnishing elements produced for this stand out due to the interplay of dark blue tones, warm oak finishes and black powdered steel frames. Cubes made of oriented strand board panels serve as display furniture with a rough and ready look. The elaborate slatted ceiling is also an absolute eye-catcher. Hoffmann Interior also made the matching substructure out of steel. Securely attached to the structure of the Art Nouveau building, it carries a load of around 300 kg. Metallic details and shiny textured surfaces accentuate other features in the interior design.
The ground floor houses the "Young Fashion" area and focuses on adaptable options for the display of products. Large room dividers made of expanded metal were used here. White Metro tiles adorn the walls here and present large-scale prints. Concealed shelves with rails also allows for the flexible configuration of the wall panels. The long checkout counter on the ground floor, with an innovative outer shell made of Fenix laminate, is also a very striking feature. Together with the basic elements, this creates a sophisticated design. The different angles were perfectly matched in a complex process and the outer shell was arranged around the wooden base like a puzzle. Despite these technical challenges, all the work was completed in time for the reopening.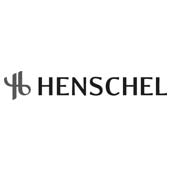 Sector
Fashion
Project type
Stores
Customer
Henschel Darmstadt GmbH
Design
Blocher Partners, Stuttgart
Services provided

Production
Installation

Elements produced

Wall furniture
Mid-space furniture
Product displays
Changing cubicles
Stand-up desks
"Obendrauf" Restaurant:
Room dividers
Cloakroom
Sliding door
Tables
Lounge furniture
Counter panelling
Patio furniture

Cooperation since
2013
Projects realised until now

Stores in Darmstadt:
"Henschel" and "Gegenüber"
Store in Heidelberg