Horst
Do-it-yourself store in Hamburg
An "intuitive and sustainable store design" – this is the praise given by the jury of the "Store of the Year" Award in justification of its decision in favour of the do-it-yourself store in Hamburg. The HORST concept explores the limits of creativity in the "Home & Living" sector and is therefore more than just a DIY store.
As a committed partner, Hoffmann Interior made the challenging shopfitting project become a reality: all the necessary furnishing elements were produced and installed within a period of 6.5 months according to the plans of the Hamburg design office "design for human Nature". These included many shelves, display modules, the checkout area and a service point. The floor covering for a balcony and a soundproof ceiling for the workshop, where customers can have wood cut, engraved and printed, were also tailor-made.
The name HORST is an abbreviations for "HOme Renovation STore" and reaches out to tenants and home owners in particular. HORST should give them an inspiring place where they can find everything they need to implement their own ideas. The design therefore differs greatly from a normal DIY store: instead of an endless number of aisles full of materials, customers find a welcoming interior design. Natural and relaxed – this basic idea extends through the entire interior design. WISA spruce is used to make the store look bright. These are panels made of Finnish spruce plywood. The shelving systems used are honeycomb structures arranged together by themes. Customers can quickly find what they are looking for according to the principle "For what – How – With what?". The positive media reaction to the opening in October speaks for itself and shows that customers and employees are impressed by the innovative shopfitting.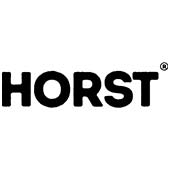 Sector
DIY store
Project type
Shop
Customer
HORST Retail Concepts GmbH
22339 Hamburg
Design
Design for human nature / Hamburg
Services provided

Design
Production
Installation

Elements produced

Mid-space furniture
Wall furniture
Shelves
Tiled wall in the sanitary facilities
Checkout counters
Service counter
Workbench

Cooperation since
2018