Horstmann+Sander
Store in Hanover
Shoes, handbags, suitcases or accessories – customers shop for many exclusive brands at Horstmann+Sander. Premium shopfitting should also do justice to the requirements of outstanding designs. Horstmann+Sander took an unusual step in this respect: the company decided not to opt for a firm of architects and designed all the furnishing elements and furniture itself. Hoffmann Interior was involved in the design phase as an innovative expert in interior design.
The redesign of the flagship store in Hanover features patinated brass, high-gloss lacquering and a high-quality reclaimed wood look. Over 120 furnishing elements over four floors had to be designed and produced. These include rear walls and shelves, but also display tables and cube-shaped tables. With Hoffmann Interior as a partner, the company developed designs and details for every department that reflected the character of the products in their surroundings. Brass elements and white shelves provide stylish contrasts in the area for women's shoes, whereas white high-gloss surfaces emphasise the elegant products on display in the handbag department.
In contrast, the display and sales area for men's shoes conveys a masculine look where the colours wenge brown and tin take centre stage.
The leisure department in the Horstmann+Sander store is an absolute highlight. Hoffmann Interior produced two four-metre high tables for this area with panels in a reclaimed wood look and rust-coloured, cube-shaped substructures are integrated seamlessly into the aesthetics. Thanks to the flexible range of services and the professional expertise of Hoffmann Interior, the refurbishment was accomplished in just 14 weeks, having taken over the technical development, production and subsequent logistics, including the professional installation.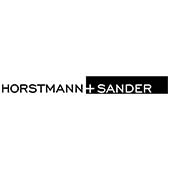 Sector
Luxury brands (shoes, bags,
accessories made of leather)
Project type
Refurbishment of existing sales areas
Customer
Horstmann & Sander GmbH & Co. KG
30159 Hanover
Services provided

Planning
Project coordination
Installation

Elements produced

Rear walls
Mid-space furniture
Counter furniture

Cooperation since
2014
Projects realised until now

Horstmann + Sander, Hanover