Kronos Titan GmbH
Administration building in Leverkusen
Spacious rooms, clean lines and the use of titanium white as the company's hallmark: On behalf of Kronos, Hoffmann Interior refurbished and modernised the executive floor of the administration building in just five months. Today, the 800 m² across the entire floor shine in new splendour. One of the special requirements of the chemical company was that titanium white is used for the internal design as Kronos has been producing high-quality titanium dioxide pigments for 95 years. A complete success: The white makes contrasting colours such as dark blue or warm grey tones gleam more brilliantly. In addition, the smooth feel of the white and the soft matt surfaces of the walls and furniture create an additional wow effect.
The modern industrial look, designed by the company Lepel & Lepel Architekt Innenarchitektin PartG mbB, is additionally underlined by glass partitions and built-in wooden cabinets manufactured by Hoffmann Interior. The structures of the wooden slats not only provide a warmer, inviting atmosphere, they also have a sound-absorbing effect compared to conventional office cabinets. An open-plan kitchenette completes the management floor: Employees can meet here for a coffee or hold short meetings on the bar stools. Hoffmann Interior has also provided pleasant lighting. The general contractor installed a metal ceiling construction with integrated lighting.
The challenge of this project was the location of the offices and Kronos' requirement to minimise noise and dirt on the remaining floors so that work could continue. Not a problem for Hoffmann Interior: The general contractor ensured that employees in the administration building remained undisturbed during all the work – from the demolition to the electronics, plumbing work and the assembly of the furniture. In practice, this was achieved by means of an external stairwell, which Hoffmann Interior built specifically for this project. This allowed materials to be transported trouble-free to the third floor of the building and construction debris on the other floors was avoided.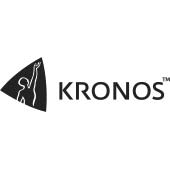 Customer
Kronos Titan GmbH
Industry
Chemistry
Design
LEPEL & LEPEL Architekt Innenarchitektin PartG mbB
Services performed

GU-Services
Furniture

Manufactured elements

Fitted cupboards
Wardrobes
Glass partitions
Meeting Point
Open kitchenette

Realisation time
5 months