La Maison du Pain
A café, bakery and bistro in Hamburg-Blankenese
Comfy rattan furniture, arches, porcelain details and country-style ornamental tiles – plus the scent of freshly brewed coffee and steaming pastries: visitors to the La Maison du Pain café in Hamburg-Blankenese have all their senses captured by the authentic flair of a French patisserie. The technical equipment meets the latest gastronomic standards while being seamlessly embedded into the cosy look. As such, La Maison du Pain offers the perfect synthesis of modern service and an historic ambience. The Hoffmann Interior team was responsible for translating the French joie de vivre into attractive designs and materials.
As a general contractor and interior design specialist with a feel for brand identities, Hoffmann Interior was the ideal partner for the development of the franchise's latest site in Hamburg. The café was created on the over 325 m² site during a three-month project. Hoffmann Interior managed all of the phases – from the design to the conversion. In addition to the café itself, the task also involved fitting the ancillary rooms and an outdoor terrace with appropriate furniture and furnishings. Hoffmann Interior furthermore coordinated all necessary work such as dry construction, the installation of the outdoor advertising and all the electrics. In the finished conversion, the oak counter area is strikingly painted in an eye-catching blue. Porcelain handles and curved display cases highlight the attention to detail and round off the authentic look.
Window-like arches made of patinated steel divide the seating areas into various 'rooms', enabling diners to enjoy the French specialities in the 'living room', 'office' or 'dining room'. Thanks to the custom fittings and furnishings, each area has its own unique atmosphere. The 'living room', where lower tables and comfy chairs create a lounge-like feel, is particularly homely. Near the entrance, on the other hand, diners can sit at rustic oak tables as they sample the excellent range of baked goods, hot drinks, salads and wines. Throughout the café, quality chandeliers and refined light fixtures bathe all of the seating areas in soft, warm light. Strategically placed design accents catch the eye to round off the overall picture, for example the rustic clinker bricks on the walls or the robust oak parquet flooring that contrasts with the delicately ornate tiles in the counter area.
The work was completed at the end of February 2021 and the franchisor La Maison du Pain GmbH is set to create further sites in cooperation with the Hoffmann Interior team in the near future.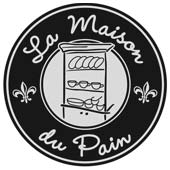 Customer
La Maison du Pain
Momentum LMDP AG
Project type
Stores
Sector
Food
Design
Hoffmann Interior and partner architects
Services provided

Design development
Planning and construction
Production
Assembly
Complete GU services

Elements produced

Counter
Counter back buffet
Room divider in patinated steel

Cooperation since
2021
Projects realised until now
Stores in Hamburg-Blankenese and Hafen City