Luisa Cerano
Stores and shop-in-shops all over Europe
Customer's objective: A high-quality overall impression and a modern ambience with classic elements that make a statement.
Implementation of the brand identity: The new LUISA CERANO shop design demonstrates at a first glance the aspirations of the fashion brand in terms of design and look. The shops have real oak parquet flooring, smooth concrete walls, satin brass bars and many gold-coloured elements. A highlight in the new shops: a large focal panel with a "black steel rough cast" surface coating, created with several coats of paint. Cubes with an "old gold" finish provide its special boutique character.
Project description: Hoffmann Ladenbau has performed all the general contracting services in the approximately 50 joint projects completed up until now. These tasks include the technical development, furniture production and installation on-site, amongst other things. A distinctive feature is the large number of projects in which Hoffmann Ladenbau has always managed to perfectly translate the identity of the brand for different requirements: from complete stores to shops-in-shops, showrooms and outlets – some of which still have older designs. Hoffmann Ladenbau was once again able to demonstrate its superior roll-out expertise with the projects throughout Germany and Europe: on the one hand, with the timely production and delivery of all shop furniture and, on the other hand, with the forward-thinking planning of all services as a general contractor.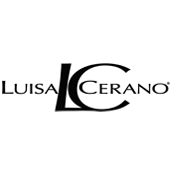 Industry
Fashion
Project type

Stores, Shop-in-Shops, Showrooms,
Outlets

Customer
Luisa Cerano GmbH, Nürtingen
Design
Blocher Blocher Partners, Stuttgart
Services performed

Production
General contracting services:

- Construction management
- Drywall construction
- Painting
- Lighting
- Electrical installation
- Air-conditioning technology
- Flooring
- Façade construction
- Outdoor advertising
- Merchandising

Shop and store logistics
Installation

Manufactured elements

Presentation furniture and walls
High shelves made of stainless steel
Counter units

Cooperation since
2005
Completed projects

100 Shop-in-Shops and Stores
Outlets in Ingolstadt, Wertheim and Soltau
Showrooms Düsseldorf, München, Hamburg,
Amsterdam, London and Kopenhagen