Ranjbaryan practice
Dental practice in Hamburg
Feel at ease straightaway at the dentist? This has been possible at the Ranjbaryan Practice in Hamburg since its reopening in October 2022. Having already realised a dental practice with the architectural firm 12:43 Architekten from Stuttgart, this new build was also a complete success for Hoffmann Interior. Hoffmann was the general contractor and furniture manufacturer for the construction of the new practice on an area covering more than 200 square metres – and this work took place while the building was still a shell and the infrastructure outside the building was still under construction.
It was particularly important for the Ranjbaryan Dental Practice that all services were provided from a single source for the construction and furnishing of the premises. It is a good thing that Hoffmann Interior fulfils all the prerequisites for this as a general contractor. Only the dental furniture came from a special manufacturer. Hoffmann Interior also ensured that the guidelines for dental practices could be observed during the construction as these would become mandatory at a later stage. This involved laying ring lines for sterile water pipes in the screed including a flushing function as well as pipes for the extraction system. The general contractor also tailored its work closely to the IT and dental technology. The furniture and its orientation in the sterile rooms were adapted to everyday work in the practice and the documentation of work steps will facilitate things for the practice team.
Anyone attending an appointment at the Ranjbaryan Practice today will be surrounded by a welcoming ambience in the reception area. Delicate, matt pastel tones, tactile surfaces and indirect lighting invite patients to relax. The herringbone wooden floor also provides warmth – which is otherwise unusual in dental practices. And yet the look of the practice is kept clean. Linear structures such as the white counter in the reception area, the right-angled ceiling lights and handleless built-in cabinets ensure that this is the case. The glass partitions and the indirect white lighting that shines from behind the round statement mirrors also convey a modern, clean ambience.
Since the project was such a great success, two further dental practices will follow that will be realised by Hoffmann Interior. The general contractor will once again work together with the architectural firm 12:43 Architekten for these projects.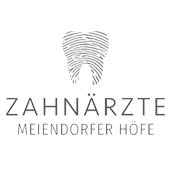 Customer

Ranjbaryan practice
22145 Hamburg
Industry
Dental
Project type
Practice
Design
12:43 Architects, Stuttgart
Services

GC Services
Production
Assembly

Manufactured elements

Cabinets
Counter
Glas elements
Mirrors

Cooperation since

2022