Porsche Experience Center at the Hockenheimring
The reopening of the Porsche Experience Centre at the Hockenheimring was intended to offer customers and fans of the Porsche brand a unique opportunity to be inspired by the symbiosis of high-performance technology and an elegant look. To this end, they can test a variety of models in the simulator or on the race track.
The automotive concept for the fit-out implemented by Hoffmann Interior was created by "CIP Architekten Ingenieure" based in Stuttgart. The concept was developed in close cooperation with Margit Frank, Director of the Porsche Experience Centre. Over a period from the middle of July to the end of October 2019, Hoffmann Interior fitted out the reception area on the ground floor and the restaurant on the first floor with tailor-made furnishing elements. These included counter furniture, tables, chairs, as well as structures for wine coolers. With elements made of walnut and stainless steel, the interior design conveys the same modern and stylish look that Porsche customers appreciate. At the same time, the design of the wall and floor lines as a "pit lane" picks up on the motif of the race track, perfectly integrating the customer experience centre into its surroundings. Hoffmann Interior also supplied the appropriate furnishings for the adjoining areas on all floors of the building. The elaborate wooden slatted ceilings and the wall panelling are one of the highlights of the interior design: the wall panelling was produced as a clever combination of textile panels and magnetic timber-framed rear walls.
The tight schedule made Hoffmann Interior the ideal partner for the project. The planning, production and installation could be completed successfully due to the company's many years of experience with the brand character of Porsche and planning expertise.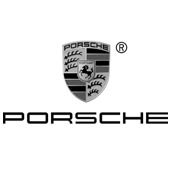 Sector
Automotive
Project type
Porsche Experience Centre –
customer experience centre
Customer
Porsche Deutschland GmbH
74309 Bietigheim Bissingen
Design
CIP Architekten Ingenieure,
70178 Stuttgart

In cooperation with
Mrs Margit Frank, Director of the Porsche
Experience Center Hockenheimring
Porsche Deutschland GmbH
Serviced provided
Site measurements
Planning
Production
Installation
Elements produced

Wall panelling
Corresponding wall and floor lines
designed as a "pit lane"
Slatted ceilings
Bar and restaurant counter furniture
Tables
Chairs
Structures for wine coolers
Glass cabinet
Storage cabinets and cloakroom
lockers in adjoining areas
Lockers in the changing area

Cooperation since
2014
Projects realised until now
Showroom furnishings for
Porsche car dealers worldwide
Customer Experience Centre – Talent House