Rose Bikes
Biketowns in Bocholt and Munich
Rose bikes faced some challenges with the planning of their second location in Munich in 2014. The question was: How can it be manageable to ideally present 200 bike models that can all be individually customised in an area of "just" 300 m²? Ultimately, at the location in Bocholt they had around 6,000 m² available. They found the solution in their own web shop: The online configuration technology was now also used for the retail store. This way, they created a store with showroom character that virtually provided them with an extension into the online world through the digital signage technology.
Test, try out and experience! In 2016 Rose Bikes wanted to take this approach to a new level by developing the new design of its headquarter in the Westphalian town of Bocholt. This gave rise to the idea of a test course where customers can can take their measurements at the test stations.The 3D data is made accessible to customers through their profile in the Rose Bikes web shop so that they can use this for future purchases or virtual testing.
The bike configuration is a further highlight: customers configure their dream bike at multitouch counters and the result is directly visualised on large LED screen walls. There is also an online and offline link here: customers can start the configuration on their PC at home and come to the store to finalise it. iPads as info terminals, digital signposts and a Rose app complete the digital overall picture.
Altogether the interior design has now an airier feel and new colour tones, such as anthracite and green, have brought a wonderful freshness into play. Warm and natural ash wood can be found on the product presentation stands, in the seating areas and on the back walls of the test stations. A great contrast to the rough concrete look that was maintained. The cafeteria has also become larger and has moved to the mezzanine level.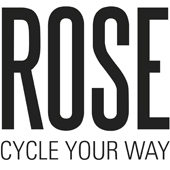 Industry
Specialist sports retail
Project type
Concept stores
Costumer
Rose Bikes GmbH, Bocholt
Design
Blocher Blocher Partners, Stuttgart
Performed services

Technical development
Production
Installation
Tendering & awarding part of the trades
Site measurement and supervision

Manufactured elements

Display furniture and walls
Check-out-systems with touch screens
Bicycle pedestals with iPad steles & illumination
Consultation desks
LED wall with glass and flat screens
Bicycle stands

Cooperation since
2005
Realised projects until date

Rose Biketown Bocholt
Rose Biketown München
Rose Biketown Dodenhof
Rose Biketown Posthausen