42 Wolfsburg coding school
A non-profit programming school in Wolfsburg
The numerous concept schools in the 42 network are training young talent in the IT sector on six continents. Students can learn for free on a peer-to-peer level and on a project basis in the private educational institutions. The students exchange their knowledge and support each other. The 42 Wolfsburg programming school is one of two locations that wants to establish the concept in Germany as well. The client relied with confidence on Hoffmann Interior and the long-standing general contractor experience of the interior design experts for the realisation of the modern learning environment. The concept of the architect's office AR studio d'architectures (the project is managed in Germany by CRI Cronauer + Romani Innenarchitekten GmbH, Bensheim) takes advantage of the design of the historic building near the railway station and focuses on a perfect symbiosis of functionality and timeless design. Between October 2020 and January 2021, the interior of the former department store, with a total area of 1550 m2, was transformed into a non-profit institution.
The technical know-how of the team at Hoffmann Interior is already apparent at the reception desk: In order to meet the safety requirements, it was made from a combination of various non-combustible materials like glass and metal, which blend in seamlessly with the drywall construction. Students in the 18 to 30 age group can improve their programming skills and focus on topics such as artificial intelligence and cyber security at numerous workstations over two floors. The learning area on the ground floor, fitted out with desks, gets its colour accents from the crimson red stripes on the floor. This special accentuation method is also found on the upper floor, however here in a rapeseed yellow colour, where the tabletops made of birch-coloured multiplex mounted on powder-coated metal provide a friendly contrast to the differently coloured area. Where the spatial conditions make it necessary, "floating" acoustic sails above the desks provide pleasant room acoustics and therefore retain some of the original character of the premises. Shelving units and padded seat elements, coordinated with this overall image, round off the appropriate furnishings, thus creating an optimal learning environment.
As general contractor, the interior design professionals offered the client a seamless all-round service. In addition to the production and installation of the finished fittings and furnishings, Hoffmann Interior also took over the coordination of all the construction work. This included the drywall construction as well as the complete floor and painting work. In addition, the entire building had to be fitted out with safe glass partition walls. Although the targets changed several times during the course of the project, Hoffmann Interior ensured that the reconstruction was completed on time. The virtual reopening of the 42 Wolfsburg coding school was live streamed on 10 May 2021.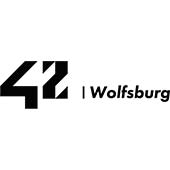 Customer
42 Wolfsburg e.V.
Industry
School
Design

AR studio d'architectures

Services

Interior fittings
Production
Assembly

Manufactured elements

Shelves
Reception counter
Desks
Seating elements

Implementation time
4 months