Valmont
Flagship store Berlin
The Swiss luxury cosmetics label Valmont launched its first flagship store La Maison Valmont in January 2016 right in the heart of Berlin. The choice of Fasanenstrasse as a location was very deliberate: This is one of Berlin's top addresses for artists. "I would like to create a unique concept that inspires visitors to discover the world of Valmont!" says owner Didier Guillon. This perfect symbiosis of product presentation and artist's workshop came about through cooperation with the Hamburg firm of architects Breil+ Creative Partners.
To maintain the openness of the area, the presentation furniture for the private labels Valmont, L'Elixir des Glaciers and Il Profvmo have been placed so that the layout accentuates them. The classic mix of white painted surfaces and highly polished brass is derived from the Valmont CI and forms the common theme of the store concept. The shop's image is rounded off with selected contemporary artworks, which harmonise perfectly with the scaled back concept.
Premium products are presented in display cabinets, so-called "glorifiers", in the centre of the room, in the style of an art exhibition. The wall units are versatile: Besides the original purpose of product presentation they also offer storage space close at hand.
The tester bars in front of them are the ideal stage for presenting the product ranges of the private labels. The key feature: Jars and bottles are placed on individual acrylic blocks with a 3D effect. "Hand-crafting was required to achieve this", says Steffen Jahn, project manager with Hoffmann Ladenbau. "To this effect, the acrylic blocks were painted in gold or red underneath and white on the sides. This creates the special 3D effect due to light penetration from the ceiling lights."
When designing all the furniture particular attention was paid to the right means of lighting, since increased build-up of heat can cause the sensitive ingredients of the cosmetic products to lose their effectiveness. To create a uniform overall image, care was also taken to ensure the same colour of lighting prevails for all product presentations.
Lighting was also an important element for the external façade: The Valmont logo was first laser cut from a cuboid of highly polished brass, then the lettering was decorated and illuminated. The outside advertising is complemented by a spotlight that projects the Valmont logo onto the pavement. This should make it clear to everyone that this is Berlin's new beauty hotspot.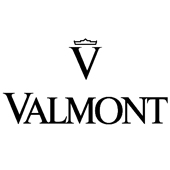 Industry
Luxury cosmetics
Project type
Flagship Store
Costumer
Valmont Group, Morges/Switzerland
Design
Breil+ Creative Partners, Hamburg
Services performed

Technical development
Production
Assembly
Logistics

Manufactured elements

Wall units and display cabinets
Presentation cubes
3D acrylic blocks for presentation
Sales counter

Cooperation since
2015
Realised projects until date
Flagship Store Berlin